The second trimester is considered to be from week 13 to week 28. This is often the most comfortable time of pregnancy for most women. The early symptoms of the first trimester will start to disappear here and you are likely to feel a boost in energy levels and a better night's sleep.
Of course, this second trimester to do list isn't a race, much like the first-trimester checklist. These things are not intended to be completed in a day, week or even a month. Take your time, and enjoy the process!
Before we proceed please know that this post might contains affiliates links, to read more, you can take a look on my Disclaimer page.
So here is a list of what you'll want to do during the second trimester to be as ready as you can be for the arrival of your new bundle of joy.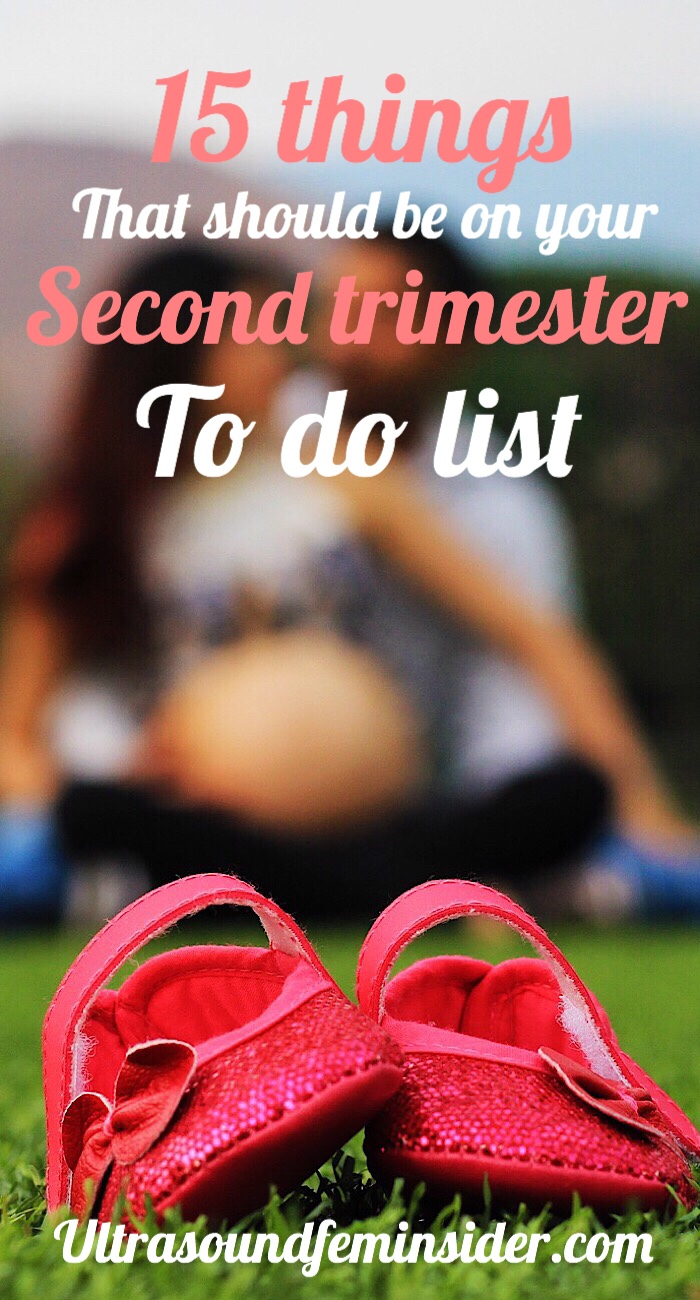 1. Make healthy eating a priority.
Eating a nutritious diet during pregnancy is linked to good fetal brain development, a healthy birth weight, and it reduces the risk of many birth defects. Avoid the temptation of calling for takeout too often by stocking up on wholesome snacks and a more healthier menu.
2. Drink plenty of water.
During pregnancy, it's important to stay hydrated. It's a good idea to drink at least eight glasses of water every day. Try carrying a bottle of water with you that you can sip regularly. Water helps to carry nutrients through your blood to your baby. Drinking water also helps to prevent urinary tract infections, constipation, etc. all common symptoms during pregnancy.
If you're suffering from water retention (edema), drink plenty of water. Surprisingly, keeping yourself hydrated helps your body to retain less water.
3. Start some exercise.
Exercising throughout your pregnancy is good for you and your growing baby. Exercising for 30 minutes a day can benefit your health during pregnancy. The important thing is to be active and get your blood flowing.
Benefits from exercise during pregnancy:
Helps reduce backaches, constipation, bloating, and swelling
May help prevent, or treat, gestational diabetes
Increases your energy level
Improves your mood
Improves your posture
Promotes muscle tone, strength, and endurance
Helps you sleep better
4. Learn about this trimester antenatal appointments.
At your 16-week appointment, your doctor will tell you about the Anatomy scan, which is the ultrasound that checks all the baby body. Intracranial structures, major organs such as heart, stomach, kidneys, urinary bladder, spine, etc., also the size of the baby, the fetal limbs and more. This scan will be offered to you between 18 weeks and 21 weeks.
Before this ultrasound, you need to know if you want to know the gender of your baby.
Learning in general all about prenatal care is crucial for the wellbeing of your baby and yours. Don't be afraid to ask questions, and start communicating to your doctor your preferences about the birth experience you want to have.
5. Schedule a dentist appointment.
Approximately 40% of women develop gingivitis at some point during pregnancy. That makes it more important than it already is to stay on top of dental cleaning. The second trimester is an ideal time to do that.
6. Start shopping for maternity clothes.
Put some time aside to feel beautiful and comfortable again, what a great way to do this than SHOPPING. Even if you're not showing yet, you may find you're more comfortable in maternity clothes. It's a good idea to buy a few items now and then get more later on as your bump gets bigger.
Online sites such as Amazon, hands down my favorite shopping place, offers deals, quality, trends and comfort from your own home.
7. If you have a little one already, this is a great time to prepare your toddler for a new sibling.
If you have a toddler at home, this is the perfect time to start getting ready for the arrival of the new sibling. Let your toddler pat your bump gently and encourage to talk to the baby inside your belly. Your first born will enjoy coming along to antenatal appointments and listening to your baby's heartbeat, too.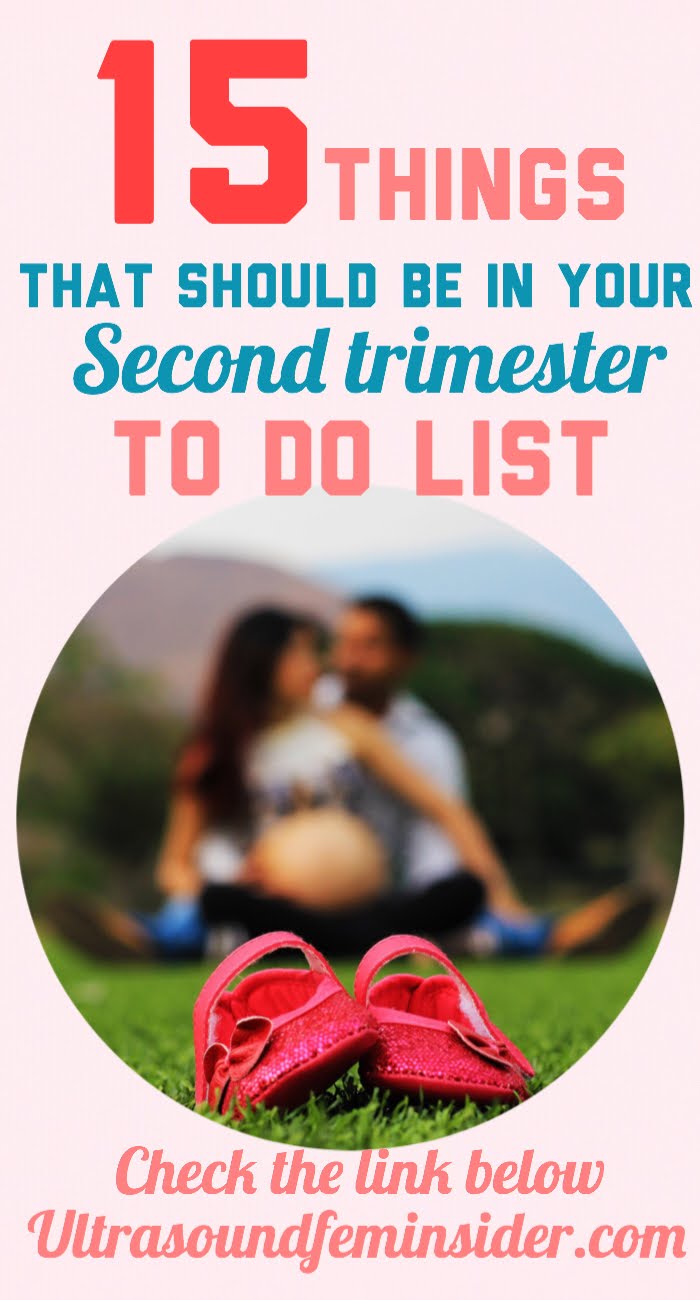 8. Start planning and assembling the nursery.
This is the perfect time to start designing a peaceful place for you and baby to enjoy in a few months.
So if you haven't already, hop on Pinterest and get inspired.
If all that decorating makes you feel overwhelmed instead of excited, that's fine too. Your baby will be just as happy in a simple room as one with an elaborate design.
9. Starting to sleep on your side.
As your bump grows, it puts pressure on a major blood vessel when you lie on your back. This can affect the flow of blood and oxygen to your baby. In fact, by the third trimester, sleeping on your side actually reduces the risk of stillbirth compared to sleeping on your back.
So if you're not already in the habit of sleeping on your side, make the switch now. Use pillows to make yourself comfortable; try one under your bump, one between your knees, and one behind your back.
This pregnancy pillows will allow you to sleep comfortably on your side without problems.
10. Work on your post-baby budget.
After you have the baby your expenses and monthly budget will definitely change. You need to start planning on things like:
Shopping around for life insurance.
Estimating medical costs in advance and save some money now if you can
Planning maternity leave from your job
Budgeting for the new arrival
Plan an emergency fund
Do your homework and research with time for these new changes, that way you will save money and headaches later on.
11. Choose a pediatrician for your baby.
Talk to your friends and family to get recommendations, call around to local clinics and ask to interview pediatrician before you make your choice.
12. Start your childcare search.
It's useful to start thinking about your childcare options, even though it still seems a long way off. The waiting lists for good childcare can be long. Look out for brochures of local childcare providers.
Here you have other related topics you might be interested after reading this post.
13. Book a babymoon.
Before even simple day trips start to require multiple bags, car seats and strollers, take advantage of your freedom with a romantic getaway.
You can go big with a vacation like a cruise (be warned that most companies won't allow you to sail after 24 weeks) or keep it simple with a staycation. Just make an effort to spend some quality, one-on-one time with your sweetie.
14. Start planning Gender reveal party and a Maternity photoshoot.
As simple as making an appointment for a fun photoshoot can get you on the mood of preparations.
Remember the gender reveal party can be done right after your Anatomy scan at 20 weeks.
15. Create Your Baby Registry.
Many first-time moms will have a baby shower sometime in the third trimester, so now is the time to start working on your baby registry. Whether you want all new items or plan on mixing some hand-me-downs into your baby's stock, a registry is a helpful way to keep track of what you want and what you need. Plus, friends and family will love knowing what is on there so they can help out.
Convenient Baby boxes with a kit of must have products for your baby.
To avoid getting overwhelmed by all the gear you need, start by registering for just the immediate essentials. Once that is done, gradually build your list to include items you might need down the road and personal items to help make your baby's nursery and wardrobe special.
In conclusion.
Getting ready for a baby is fun but sometimes stressful, overwhelming and expensive, but if you start planning ahead of time and slowly it's possible to enjoy it.
Thanks for checking my blog today, I hope this post was helpful to you, I'll see you next time.
Zadi, xo